To start, Vincenzo's has been a staple in the Waterloo region since 1967 – opened by Italian immigrants Vincenzo and Rita, the store, based out of their house on Bridgeport road started out life as "Italian Canadian Foods." While the family was running the store, Vincenzo often worked at the factory in the mornings and tended to the grocery store in the evenings. After saving up more and more, he could offer better and better prices to his customers. As a result, he could bring in increasingly better food, most notably Italian chocolate eggs for Easter. 
These imported goods would be a luxury most Canadians at this time could never get nor could ever experience, but Vincenzo found a way to provide it. To accomplish this, the family even started a "pay later" system to allow their customers access to excellent groceries and pay for them when they could afford to. Vincenzo's continued that practice for over 25 years, and If that isn't a testament that the family has served the community, I don't know what is.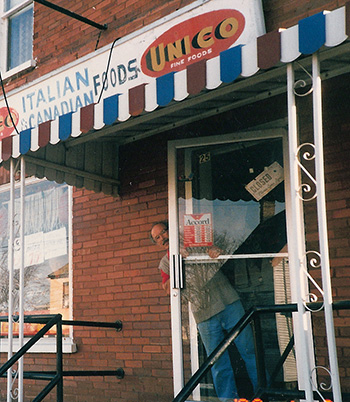 In the early 1990s, Vincenzo's moved to a more spacious location in Belmont village – This location would cement itself in the Waterloo community for over two decades. It would become the perfect place to get everything from beautiful imported chocolates to handmade pasta. Vincenzo's new location would become the premier spot to get everything, from chefs looking for the best cheeses to home cooks looking to experience Italian cuisine with the best ingredients. This location would remain until January 2010, when the family would move to a larger location in the Bauer building just off Caroline Street. It is the Vincenzo's that I would come to know.
Vincenzo's had been right underneath my nose. Before I got into working in Michelin-starred restaurants and some of the best places in Canada, I had grown up not even five minutes from the store when it was in Belmont village. I even went to school just up the road.
Due to the impact of the global pandemic, I returned from my time away in Newfoundland. I would choose to leave behind my job as chef de partie at the world-renowned Fogo Island Inn. Since returning, I would be looking for a place to find the high-quality ingredients and tools that I wanted to make food for my friends and family. I instantly knew I needed to visit Vincenzo's. After not being satisfied with the other options I had been exposed to in the past, I finally found a grocery store in Waterloo that could provide the things that l had wanted. I could now get stuff like Sicilian olive oil to cheeses from Quebec or even tools like a Peugeot pepper grinder. (side note: I would highly recommend a pepper mill from Peugeot – it's a game-changer).
After spending my time trying everything I could get my hands on at the store, a close friend of mine told me that I should try their sandwiches. I was naive and even knew they sold great meats and produce but never thought about buying a sandwich. One afternoon I was sitting around at a time when everywhere had their dining rooms closed, so I resorted to trying new takeout options. My partner and I were brainstorming about where we should get food for lunch, and she thought it was time to try out the sandwiches at Vincenzo's.
When I went up to the counter, my first thought was the amount of deli meat they have on selection – it's beautiful. However, when my partner went to choose, she just looked at me and said, "I just want turkey" (while there was a massive selection of different types of turkey…). She looked at me confused and followed up with, "Which one do I pick?".
I didn't realize that the number of options might seem daunting to someone just wanting to get a basic turkey sandwich. It got me thinking: every time we come in, I'll get her a different style of turkey for her sandwich. Now I could get my partner to explore different flavours for her sandwiches!
Vincenzo's is like Subway on steroids. There is truly no better place to go and get mind-blowing produce in the Waterloo Region, and while you are there, grab a quick sandwich. The best part is – it will always be tasty, and you can't do it wrong; it's your sandwich. I would also recommend grabbing a spicy Jamaican patty and a drink – from kombucha and cold-pressed juices to good old chocolate milk or a crisp Italian soda – for me this is the perfect combo.
Finishing off, I would like to say while writing, I discovered an incredible history about Vincenzo's that I didn't know, even as someone local to Waterloo. I hope that my story gets you passionate about the community of Waterloo and Vincenzo's itself.
If you would like to read more about the history of Vincenzo's "A search for a better life." please visit https://www.vincenzosonline.com/History.htm.